Russian police acknowledged today that they were responsible for taking down RAMP [Russian Anonymous Marketplace] — a Tor-based market that primarily sold drugs — a Russian Interior Ministry official told Russian news agency TASS today.
The takedown took place in July, but Russian authorities never made their action public, continuing to investigate suspected criminals.
The news surfaced this morning when Deputy Interior Minister Mikhail Vanichkin made public a letter he sent to Anton Gorelkin, a State Duma member, who previously asked the Ministry about the measures they took to combat online criminality.
RAMP was one of the most popular Dark Web marketplaces
RAMP was an online website available through the Tor network that allowed users to buy or advertise all sorts of illegal products. The site — founded circa 2012 and available only in Russian — had a reputation for being the go-to place for buying drugs that could be delivered within Russia's territory.
The platform didn't look like a regular marketplace, but more like a forum, with approved vendors having their personal forum section where they could advertise products.
Bleeping Computer noticed the website going down in early July, just about the same time US authorities had taken down AlphaBay, and Europol and Dutch police announced they had taken down Hansa Market, two other Dark Web marketplaces, also used for selling drugs, weapons, and other illegal products.
RAMP clone popped up after a few days, but died out
At the time, many users believed the website was having hosting issues and might have been under a DDoS attack. About a week later, on July 21, Bleeping Computer noticed a new website appear on the Dark Web, calling itself RAMP 2.0, claiming to be a new version of the older portal. The site featured an almost identical interface.
RAMP [Russian-speaking] marketplace is down. RAMP v2 popped up online a few hours ago. #darknet #darkweb pic.twitter.com/3lc8bpqrc6

— Catalin Cimpanu (@campuscodi) July 21, 2017
The website remained active for a few more weeks but eventually went down as well. Currently, the Dark Web is riddled with fake RAMP websites that try to scam users into paying some sort of access tax before being allowed on the supposed site.
In the weeks following RAMP's closure, this reporter also noticed a surge in individual shops selling drugs to Russian-speaking users. RAMP's sudden closure most likely drove the rise in new Russian shops for illegal products on the Dark Web.
In addition, a new service called RuTor was heavily advertised as a RAMP alternative, using ads on underground hacking forums, XMPP spam, and ads on other Dark Web portals. At the time of writing, RuTor is still up and running.
Promo site for Russian Dark Web marketplace that's trying to take advantage of the AlphaBay, Hansa takedowns & RAMP connectivity issues pic.twitter.com/GdMnNFxMnv

— Catalin Cimpanu (@campuscodi) July 29, 2017
According to Deep Dot Web, a directory that tracks Dark Web marketplaces, RAMP was ranked second behind AlphaBay as one of the most popular Dark Web marketplaces on Deep Dot Web portal. Currently, authorities have taken down #1, #2, and #4 from Deep Dot Web's July ranking.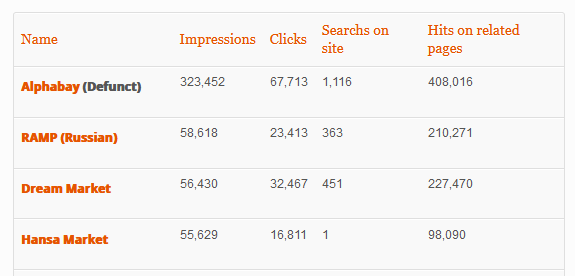 According to a recent report, Dream Market — #3 on the list — ain't doing much better either, and users fear that site operators pulled an exit scam, going off into the sunset with the cryptocurrency stored in escrow accounts.