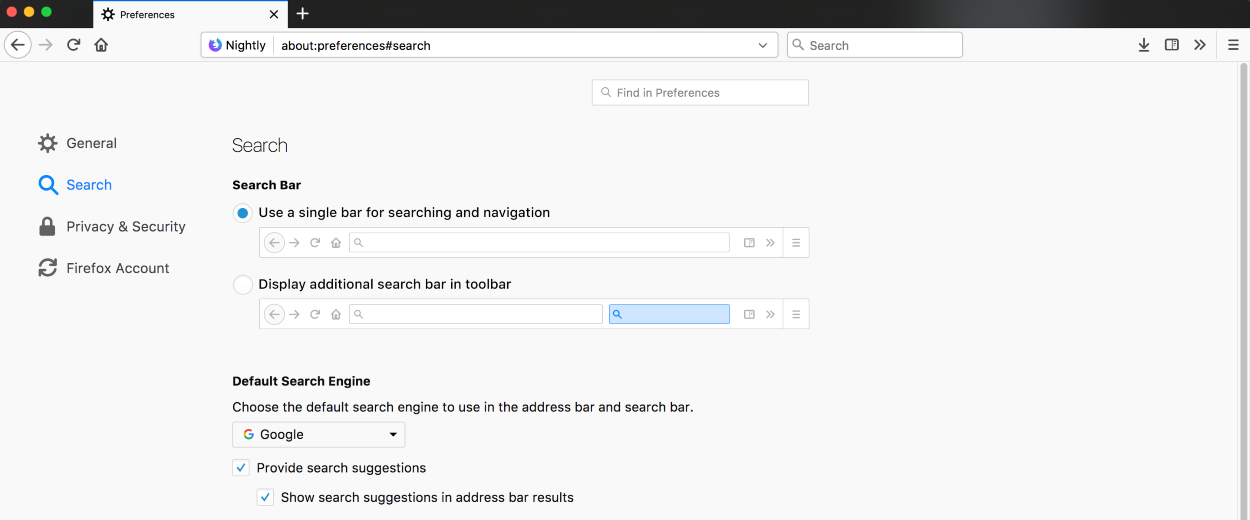 Mozilla will hide an iconic section of its UI — the search bar — and will use one singular input bar atop the browser, similar to the approach of most Chromium browsers.
This change will go live in Firefox 57, scheduled for release on November 14, and will be part of Photon — the codename used to describe Firefox's new user interface (UI) — also scheduled for a public release in v57.
Mozilla engineers aren't removing the search bar altogether, but Firefox will hide this UI element by default. Users can still re-enable it by going to "Preferences ➝ Search ➝ Search Bar" and choosing the second option, as portrayed in the screenshot above.
Search bar was redundant
The current Firefox search bar is redundant since most of its features can be performed by the URL address bar.
Google Chrome was the first browser to use a singular bar, combining the search and address bars together. When it launched, this was one of its main features.
Since then, most Chromium-based browsers, such as Opera, Opera Neon, or Brave also deployed a similar UI design. Vivaldi is the only Chromium-based browser that still features a separate search bar.
Microsoft Edge also uses a uni-bar approach at the top of the browser for both URL input and search queries.
Other changes expected in Firefox 57
Besides dropping the search bar and launching a new browser UI, Firefox 57 will also come with other major changes.
The biggest of these is that Firefox will drop support for add-ons built on its legacy Add-ons API. Only add-ons built on the newer, Chrome-compatible WebExtensions API will work in Firefox 57. Currently, about a fifth of all Firefox add-ons have been ported to the new WebExtensions API.
Further, Firefox 57 will also prevent accessibility apps from spying on users.
While Firefox will remain its own separate browser with its unique core engine, because of the addition of the WebExtensions API and by dropping the search bar, there will be critics that will call out Mozilla for "Chromifying" Firefox.
Last year, Mozilla announced plans to drop its proprietary PDF and Flash plugin implementations and use the ones developed by the Chrome team. This was a cost-cutting measure, but there were many users who didn't like the organization adding more and more Chromium code in their favorite browser.
Image credits: Mozilla